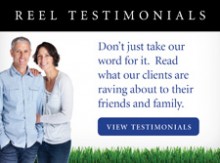 Visit Yelp and see why The Mortgage Reel has been voted the top Seattle Mortgage Broker!
"I can't say enough good things about this place.
As an American returning to the U.S. after a long absence my situation was a little bit tricky in that my credit history did not exist. Keith at Seattle Pacific worked with me to get the best possible rate, and putting in a lot of time getting my U.S. credit scores to repopulate. Without going into the gory details, he really did a lot to work with me and find me a good rate, all the while keeping me posted on the progress and walking me through the steps.
The whole deal nearly fell apart on my end (word up; don't try to wire into the U.S. from a foreign bank without weeks to spare!), Keith and his colleague Steven went so far above and beyond what I ever expected to help me close the deal on my dream house. It just would not have happened without them.
Excellent guys, very open, easy to work with, and just very decent, kind individuals."
Karen C.
---
Hire The Right Team. How Can We Assist You?
(206) 219-3088
Related content:
Leave A Reply With Facebook
comments