Seattle Real Estate Mortgage Rates Today 10/13/2011: Mortgage Rates receive some much needed support after moving higher SIX consecutive days in a row.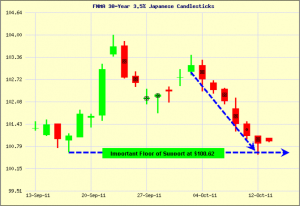 What was the contributing factor.  The 30 Year Bond Auction received an "A" rating after the 10Year yesterday flopped with a "D-" rating.  The key question still remains what will happen in Europe.  They have leaps and bounds to recover from and to add to it are the problems still brewing in Spain and Italy which were recently downgraded by Moody's.  This is almost a repeat from earlier this year when Greece began to show signs of trouble.  The key point here is timing.  When uncertainty captures global attention, once again investors will turn to the U.S. Safe Haven which now has been PROVEN time and time again as a opportunity for Mortgage Rates to move lower.
Here are great examples of correlation in Mortgage Rates and the Safe Haven trade.  When the Middle East Crisis was at all time highs, rates reached the lows for 2011.  Then the devastation in Japan, yet another historic opportunity for low rates in 2011.  And then the most recent announcement from the Federal Reserve which triggered a Three day opporunity never seen thus far in all of 2011. (This can be seen in the Green Spike in the left chart).
Interesting in writing this post the U.S. has been reporting better than expected news in Jobs, Consumer Sentiment and the much awaited Retail Sales which will be announced tomorrow.  If Wall Street has not already built this report in, it can cause even more volatility in Mortgage Rates closing out the week.
For now, good news domestically here in the U.S. will fuel Wall Street and pull funds from the bond markets and mortgage backed securities. Good news in Europe will sell off the Safe Haven trade.  BUT keep an ear out for anything opposite and this may be a time for you to take advantage of the market.
Timing is everything just as location of the home is critical. Timing in securing an interest rate, BEST rate, is working with a mortgage professional who has their pulse on the market and when best to advise and educate their clients when timing is right. Along with this key knowledge is to be on top of all of the lending and underwriting changes which seem to almost happen daily. We at the Mortgage Reel are Licensed Washington Loan Originators, serving clients with transparency, knowledge and most importantly keeping your goals in mind. How can we assist you today?
Join the Conversation on Facebook, just click on the banner on the homepage and it will take you to our Facebook page, "How to Beat the Banks on your Home Loan" Like us when you visit and post any comments or suggestions.  We want your feedback.



---
Hire The Right Team. How Can We Assist You?
(206) 219-3088
Related content:
Leave A Reply With Facebook
comments