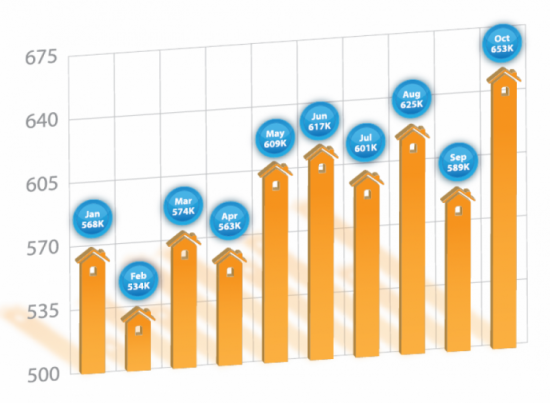 Seattle Real Estate Mortgage Rates Today 11/18/11: Building permits rose to 653,000 in October. A 10.9% increase from September and 17.7% higher than October 2010. This is the largest number of permits for 2011 and represents the most since March 2010.
The building permits report is used as a guide to gauge future signs of construction. Housing construction is significant in that builders generally don't start a house unless they are fairly certain it will sell upon it's completion, if not before. Increased building permits, and then a subsequent increase in housing starts can tell a lot about home demand and construction outlook.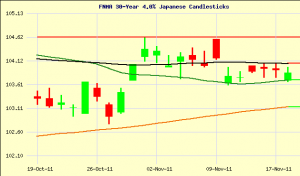 The chart on the left shows the trading activity for Mortgage Backed Securities for the three weeks.  What we are paying close attention two is the week activity which shows it flat, really not much to push Mortgage Rates higher or lower.
Economic data as of recent in the United States has been better than expected, nothing to jump for joy, but it has been positive.  Even with good news from jobs, housing and inflation which should have pressure Mortgage Rates higher we remained even keel for once.  This is actually kind of refreshing, could it be a sign of a normalizing market? That would be a long shot.  Why? There is still to much uncertainty in Europe whose problems are far from over.  When the uncertainty returns, which it will, we will be sure to see volatility return to the Mortgage Rates.  Why?  The Safe Haven trade of the U.S. securities and the stock market.  Both will react with news from Europe, trading higher and lower, moving millions of dollars in and out of the market.
Next week will be short but will have news from Initial Jobless Claims, FED Minutes and the GDP report.  There is not much being hyped up over these reports from Wall Street, at least not as of today.  We can only speculate there will be some news that will come about and stir the market.
We are working with clients who are considering refinancing and purchasing homes right now who are asking us to look into the crystal ball.  For those who are refinancing we are taking the stance that there is really not much data to push Mortgage Rates lower than these current levels.  Though many are waiting to see if it will move lower, the data shows there is not much of a chance.  Of course there can be breaking news which could sway the market, but the chance of a reversal higher at this time appears to be more of a risk.
Timing is everything just as location of the home is critical. Timing in securing an interest rate, BEST rate, is working with a mortgage professional who has their pulse on the market and when best to advise and educate their clients when timing is right. Along with this key knowledge is to be on top of all of the lending and underwriting changes which seem to almost happen daily. We at the Mortgage Reel are Licensed Washington Loan Originators, serving clients with transparency, knowledge and most importantly keeping your goals in mind. How can we assist you today?
Join the Conversation on Facebook, just click on the banner on the homepage and it will take you to our Facebook page, "How to Beat the Banks on your Home Loan" Like us when you visit and post any comments or suggestions.  We want your feedback.



---
Hire The Right Team. How Can We Assist You?
(206) 219-3088
Related content:
Leave A Reply With Facebook
comments