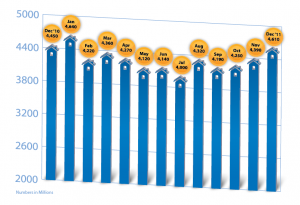 Seattle Real Estate Mortgage Rates Today 1/23/12: Existing-home sales for December 2011 increased 5% from November. This is the third consecutive month of increases and the second highest reading of 2011. The December level was also 3.6% above December 2010, and as a whole, existing-home sales were up 1.7% from 2010. Total housing inventory dropped 9.2% for December, representing a 6.2-month supply, down from a 7.2-month supply in November.
Existing Home Sales is a measure of the selling rate of pre-owned single-family homes, collected by the National Association of Realtors from 650 realtor associations. It includes a geographical breakdown, as well as a measure of prices and house inventory, the number of months it would take to deplete the existing supply of pre-owned houses at the current sales pace.
It is interesting corelation between the increase in housing numbers and the decrease in unemployment.  Mortgage Rates are slowly ticking higher as optimistic news continues to come from the U.S. economy.  Over seas Europe still has not shown signs of a solid believable plan to sustain the financial system.  This has left many investors in the U.S. Safe Haven trade.
However coming fresh off of the press today bond dealers in a majority feel that the FED will announce another round of Quantitative Easing within the first half of 2012.  Yes QE3 seems to be on the horizon now.  Many economists don't feel QE1 or QE2 had any positive impact other than creating more debt to pressure future inflation.  It is still too early to predict how QE3 will impact mortgage rates.  BUT if relying on historical performance then we would hedge that the official roll out of QE3 would pressure Mortgage Rates higher.
NOTE: the FEDS are currently already purchasing Mortgage Backed Securities which has kept Mortgage Rates low.
Timing is everything just as location of the home is critical. Timing in securing an interest rate, BEST rate, is working with a mortgage professional who has their pulse on the market and when best to advise and educate their clients when timing is right. Along with this key knowledge is to be on top of all of the lending and underwriting changes which seem to almost happen daily. We at the Mortgage Reel are Licensed Washington Loan Originators, serving clients with transparency, knowledge and most importantly keeping your goals in mind. How can we assist you today?
Join the Conversation on Facebook, just click on the banner on the homepage and it will take you to our Facebook page, "How to Beat the Banks on your Home Loan" Like us when you visit and post any comments or suggestions.  We want your feedback.



---
Hire The Right Team. How Can We Assist You?
(206) 219-3088
Related content:
Leave A Reply With Facebook
comments