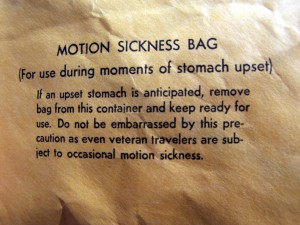 Seattle Real Estate Mortgage Rates Today 8/12/11:  UP Down, UP Down, caution this may cause motion sickness.
The illustration on the right about sums up the market this week.  After the biggest move in U.S. history facing the down grade, the market went through a turbulent ride.  Stocks were off one day by 600 then recovering on news… but wait there is global bad news, pressuring stocks to sell off.  Sometimes this was not just a day of news but influenced by the hour.  As stocks were taking there beatings and recovery the bond market and equities were on a ride of their own.  Mortgage Rates which are securitized by Mortgage Backed Securities had the same BUMPY ride.  Starting the week off with a land slide lower in yields pressuring rates to the lows, once again of 2011.  We observed rates bottoming out just below 4.00% then moving higher, AND THEN reversing lower all within about a two hour period at times of this week.  Volatility swept through the markets.
As media was painting a grim outlook on the economy reports were set for release.  In expectation of bad news the stock market bounced higher from optimistic reports from Initial Jobless claims.  AND THEN, we have GOOD NEWS!!! Right here in Seattle WASHINGTON. Pointed out to have one of the strongest housing recoveries in the country, posted by the Wall Street Journal, http://tinyurl.com/3vxe2wr . As media continued to debate the impact of the down grade other countries began to show weakness in the aftermath of the U.S. troubles.  As countries began to slip in uncertainty the U.S. Safe Haven became one of the hottest trades in the global market. Even though we are in financial uncertainty investors still had confidence that it was safer to be invested in U.S. bonds and treasuries.  This was one of the HUGE pushes for mortgage rates to move lower.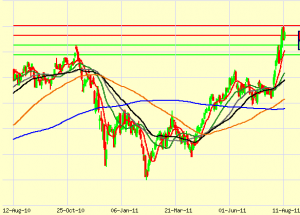 We have had many readers and fans of the Mortgage Reel ask if the rates really are at the lows that they are seeing advertised.  Here is the visual and proof.  As you can see in the chart on the left which represents mortgage backed securities activity over the last 12 months.  Since October of last year we have NOT seen the rates at these low levels, in fact the mortgage backed securities are trading at even lower levels than PRE-Quantitative Easing 2 announce in November 3rd 2010.  So this brings us to how much lower can rates go.  Well that is left up the banks on how much profitability they want to continue to have.  The markets witnesses HOURS where rates did fall below the 4.00% which is like watching the Dow Jones fall below 11,000.  It is a mental barrier that triggers MASSIVE action.  It drives home owners to get into action if they missed the last opportunity to seize a low rate.
There are so many factors in today's financing market that play into the rate like Loan to Value, Credit Score, Debt to Income, Assets, Appraised Value……. and the list goes on.  So before we can go futher quoting rates on scenarios we have to be clear that yes the oppotunity grab 4.00% or even lower was an opportunity it all depends on your UNIQUE scenario which will in the end impact APR.
So with that all said it has been a roller coaster which is far from over! WHY? There are many variables yet to come out which will trigger market volatility, like the stock market falling below 11,000 which will pressure investors to move to bonds & treasuries/ SAFE HAVEN, in the end will pressure mortgage rates lower.  THE KEY HERE IS TIMING.  Working with the right professional like us. (this is our commercial moment) Professionals who have their fingertips on what is impacting the market and how to educate you with as much knowledge as possible to make the right decision at the right time.  Thank you, our commercial moment is over.
This was put into some certainty this week as the Federal Reserve Board released their FOMC minutes which was quoted for the "Extended periof of Rates" will "Remain low through 2013" Yes this may be true that rates cannot with stand a move higher in fear of stalling economic recovery.  BUT low could mean 5.00% or 4.50% or 6.00% these are all low rates depending on when YOU were able to secure YOUR rate.  What has become a bit amazing is the expectation for rates to remain low.  NOT to forget that in the 80's rates were in the double digits.  YES FOR A MORTGAGE 11% to 17%!  So the LOW verbiage from the FED is left to some interpretation.  IN OUR EYES it is all about the time that you secured a rate not the period of time.
With that said it does not appear at this time inflation is a concern as the question of RECESSION and DEFLATION is coming back up.  And just as we experienced less than 12 months ago DEFLATION and RECESSION will pressure mortgage rates lower.  BUT be forewarned for now we do not see Mortgage Rates moving much lower until the BANKS begin to open the market pricing up even more to show there is room to move lower.
This has been a HISTORICAL week which has been both eye opening and yes a bit uneasy on the stomache.  We are extremely thankful for the opporunity to work with homeowners right here in Seattle & Bellevue Washington.  We live and work in a great market with great growth potential which the market cotinues to relfect on growth is key to recovery.  YES!

Timing is everything just as location of the home is critical. Timing in securing an interest rate, BEST rate, is working with a mortgage professional who has their pulse on the market and when best to advise and educate their clients when timing is right. Along with this key knowledge is to be on top of all of the lending and underwriting changes which seem to almost happen daily. We at the Mortgage Reel are Licensed Washington Loan Originators, serving clients with transparency, knowledge and most importantly keeping your goals in mind. How can we assist you today?
Join the Conversation on Facebook, just click on the banner on the homepage and it will take you to our Facebook page, "How to Beat the Banks on your Home Loan" Like us when you visit and post any comments or suggestions.  We want your feedback.
---
Hire The Right Team. How Can We Assist You?
(206) 219-3088
Related content:
Leave A Reply With Facebook
comments