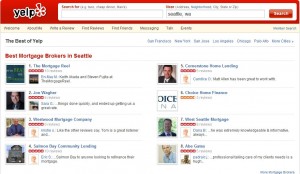 Thank you Hien for an AWESOME Testimonail!  It was a pleasure to assist you and the family.  Welcome Home!
This Awesome Testimonial can be found on Yelp.com.  Team Mortgage Reel is the #1 "Yelped" about lending team in Seattle, Twenty Nine 5 STAR Reviews.  Thank you very much to all of our valued clients!
"This is my first-ever Yelp review though I often peruse the site for recommendations. We purchased our home from overseas (without sight) via the Internet and no matter what the hour or the question, Keith responded with through and complete information. He was willing to work hard throughout the process and even after the sale was completed and questions arose, Keith helped guide us through random insurance related questions.
I found him to be one of the most professional and courteous individual in this business and I've worked with several others before him. This is my second home and third time using a broker for services and his work by far makes me realize how horrible my first experience had been. 
Though I have yet to meet him in-person, everything was done by email, telephone, or Fedex from the U.S. to Africa. Keith reassured me that distance was no problem by easing my concerns through constant and regular email communication. We truly appreciate his services and will have to meet him someday in-person to give him a big hug for getting us quickly resettled back in the U.S.
As another review mentioned- HIGHLY RECOMMEND."
---
Hire The Right Team. How Can We Assist You?
(206) 219-3088
Related content:
Leave A Reply With Facebook
comments