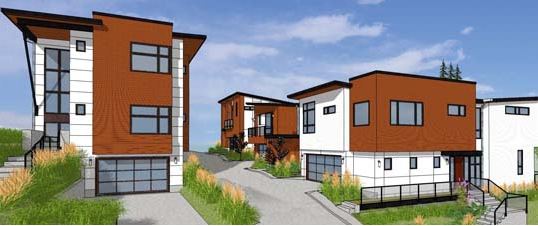 The Mortgage Reel is proud to present in Seattle Real Estate market four New Modern Homes as preferred lenders in partnership with Albert Clark & Associates.  These homes are set to be completed in August and are for sale now!
Capitol Hill / Arboretum Neighborhood 4 New Construction Modern Homes
301 24th Ave E  /  305 24th Ave E  /  309 24th Ave E  /  2312 E Thomas St 
Located at the border of 3 desirable Seattle neighborhoods, Capitol Hill, Madison Valley, and the Arboretum, we present 4 distinctive and stylish homes with a modern flair. Conveniently near Miller playfield, Madison Valley shops, Seattle's renowned Arboretum, University of Washington Medical Central and Campus, and University Village. Designed by Medici Architects and being built by Peter Granger, Inc.
To learn more about these new homes contact Albert Clark directly at 206-465-4129.
Meet Albert Clark, Listing Agent:
I have been a licensed Real Estate Agent in Seattle, WA for nearly 10 years. The exciting possibilities in real estate spurred my transition to this wonderful industry. Previously I worked in HR Consulting Business developing employer health care benefit plans. Educated in Atlanta, Georgia, I have a Bachelors Degree in Mathematics.
My business philosophy is rooted in exceptional service, high integrity, and satisfaction throughout the entire real estate process. My focus is a dedication to my clients, with the ultimate goal to make each transaction a timely, well-organized, and smooth experience. In doing so, I understand that if I take great care of you, you will refer me to your friends, family, and co-workers who are looking for the personal attention that I provide and who would appreciate this kind of service.
The real estate process is always more enjoyable when you fully understand each phase of the transaction. With my past mortgage experience and residential selling knowledge, I have the capacity to keep you informed throughout the entire process.
I look forward to speaking with you about what you may be looking to accomplish through real estate and how I can help you reach your goals.
---
Hire The Right Team. How Can We Assist You?
(206) 219-3088
Related content:
Leave A Reply With Facebook
comments