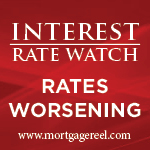 Seattle Mortgage Rates Today 3/5/12: Interestingly, we are discovering that the Swiss National Bank and the Bank of Israel, which are highly conservative Central Banks, will be in the market for US stocks in an attempt to increase their investment yields.  It's expected that the Bank of Israel plans to invest a marked amount of their foreign currency reserves—about 10% or 7.5B—into global stocks.  Why is this important?  Should we see global banks choose stocks and back away from bonds, the increase in demand will inevitably push prices higher.  Conversely, prices for bonds will fall and in turn see higher interest rates.
What is going on in China?  For the first time since 2004, China's expected GDP is below 8%.  At 7.5% growth, this represents their slowest growth.  China needs to focus on quality, not quantity; their hyper-focus on modernity was to push growth.  However, China needs to encourage consumption within their country and not rely heavily on global exports.  Given that news, global stocks are trading lower.
---
Hire The Right Team. How Can We Assist You?
(206) 219-3088
Related content:
Leave A Reply With Facebook
comments