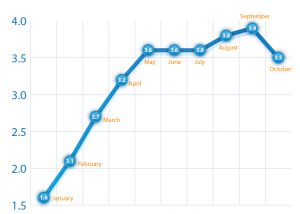 Seattle Real Estate Mortgage Rates Today 11/16/11: The Consumer Price Index (CPI) fell 0.1% in October. The 12-month reading of 3.5% comes in lower than September's reading of 3.9%. This chart displays the year-over-year CPI readings for the last 10 months. Generally, as inflation eases, bond prices rise. Higher bond prices can have a beneficial effect on home loan rates as they could potentially push lower.
This comes as good news to stabilize the Mortgage Rates for now.  As we have seen over the last two weeks the problems in Europe have caused severe uncertainty in the market.  Continued pressure on global inflation posed a serious threat to Mortgage Rates.  BUT for now locally, here in the U.S. we are treading below INFLATION.
Why is INFLATION a concern?  Clearly demonstrated early this year and at the close of last year when concerns of INFLATION hit the news wire Mortgage Rates began an overnight spike higher.
What is the reason behind this.  When INFLATION becomes an investment concern BOND yields spike higher, when bonds spike higher it also pressures right along with it Mortgage Rates.  For a period of time this year Mortgage Rates were at levels above 4.50%, this was triggered on fears of inflation.  Crazy that 4.50% would seem high but that has become a psychological barrier for many home buyers/ owners.
So now that INFLATION is out of the way for now, what is next? Tomorrow will bring the closely watched Jobless Claims.  If the number comes in below 400,000 we could see a rally in the stock market. Why? Here again is a psychological number.  We just had a Jobless Claims report come in at 390,000 which created a buzz that the jobs market was finally coming to life, even if ever so slight.  Instantly the Stock Market ticked higher and bonds / mortgage backed securities sold off as investors sought higher investment returns.  This translates to higher mortgage rates.
Second comes the numbers from housing starts and building permits.  Interesting how these reports come out on the same day as they are both pivotal reports on the status of the economy.  Weak housing and weak jobs and Stocks take a hit.  GOOD for rates.  Comparatively, Good numbers from the reports which are better than expected will trigger a sell off moving funds into the stock market, BAD for rates.  This is pattern which we will see continue for many months to come.
The key here is to be in the know.  How do you do this?  Our posts will keep you informed but, more importantly is to be working with a Mortgage Professional like our team to keep you advised of the right time that matches your long term goals and financial strategies.  Please allow us the opportunity to assist and educate you.
Timing is everything just as location of the home is critical. Timing in securing an interest rate, BEST rate, is working with a mortgage professional who has their pulse on the market and when best to advise and educate their clients when timing is right. Along with this key knowledge is to be on top of all of the lending and underwriting changes which seem to almost happen daily. We at the Mortgage Reel are Licensed Washington Loan Originators, serving clients with transparency, knowledge and most importantly keeping your goals in mind. How can we assist you today?
Join the Conversation on Facebook, just click on the banner on the homepage and it will take you to our Facebook page, "How to Beat the Banks on your Home Loan" Like us when you visit and post any comments or suggestions.  We want your feedback.



---
Hire The Right Team. How Can We Assist You?
(206) 219-3088
Related content:
Leave A Reply With Facebook
comments